How to Make a Photo Pile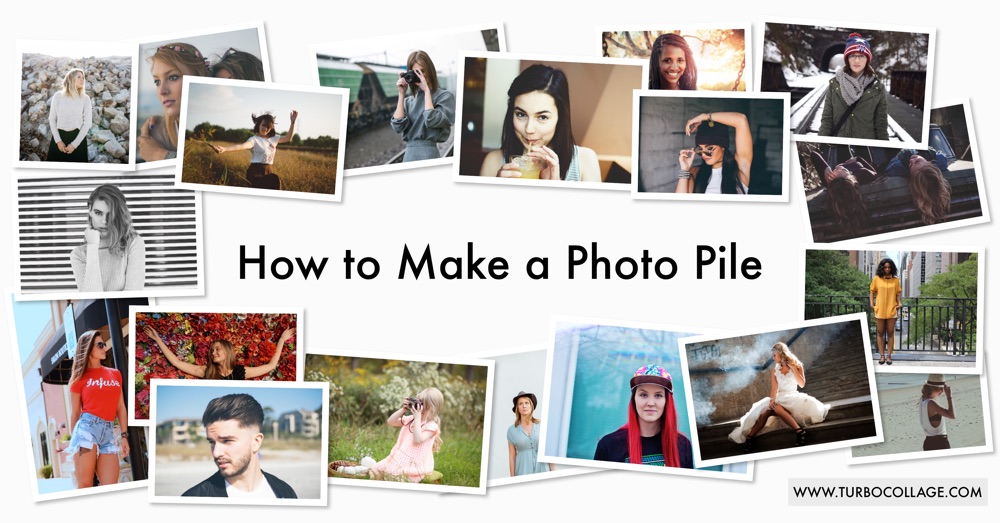 You have returned from a holiday and you're excited and anxious to share photos with your friends. The only problem is that you have too many photos — no one would've the time to go over all the photos. Even if you were to share all the photos individually, they won't convey a story or the essence of your trip.

Everyone of us has faced the same problem at some point of time. How do you get over this?

One solution is to combine your photos into a picture pile collage that is easy to share and it captures the essence of your photos.

With TurboCollage you can easily create a photo pile in minutes. Moreover, TurboCollage gives you full manual control over your collage design so you can stack and position your photos exactly as you want.

Before we get started, download and install TurboCollage. It takes less than a minute to download and complete the installation. Download here.
Steps to Make a Photo Pile Collage in TurboCollage:
1. Open TurboCollage and set your collage to use the Picture Pile pattern.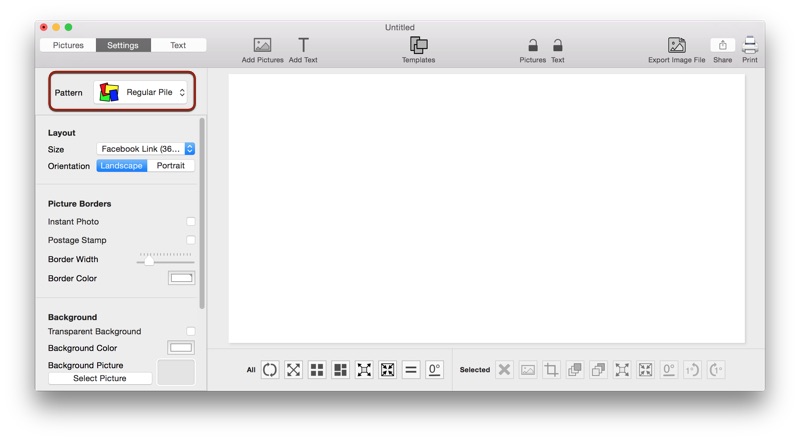 2. Add pictures to your collage.
3. Design your collage as shown in the video below.
Tweet This Photo Pile Making Method
Make a Polaroid Collage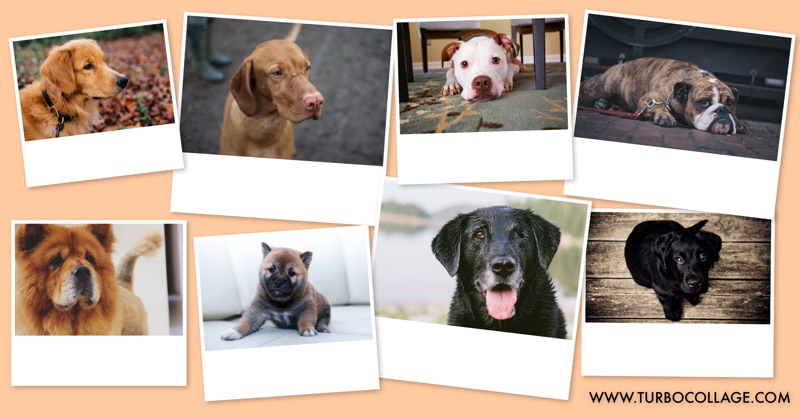 Instant photos, more popularly know as polaroids, look great in a photo stack/pile. To make your collage look like a realistic pile of instant photos, turn Instant Photo on under "Picture Borders" in addition to the steps outlined above.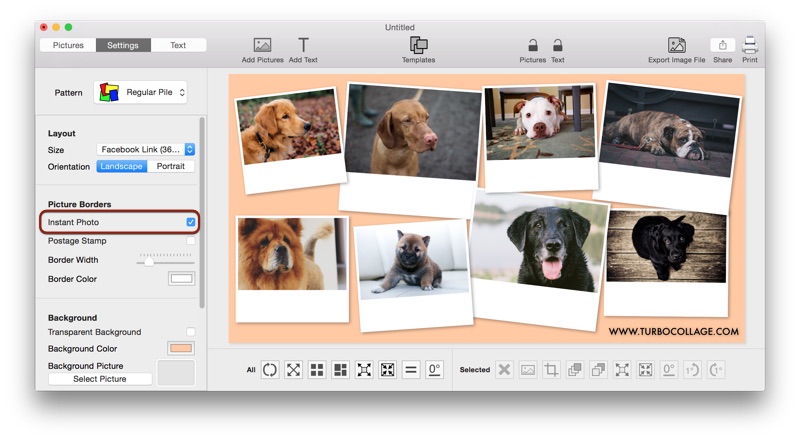 Tweet This Instant Photo Pile Making Method
Make a Stamp Collage

To make your collage look like a pile of postage stamps, turn Postage Stamp on under "Picture Borders".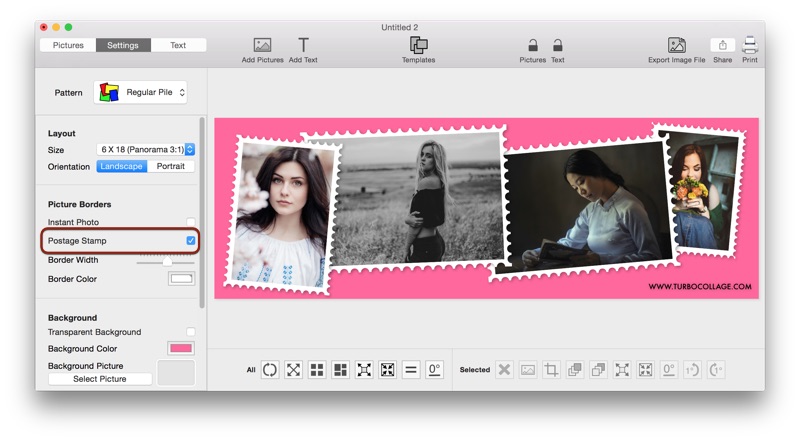 Tweet This Postage Stamp Collage Making Method
Photo Wall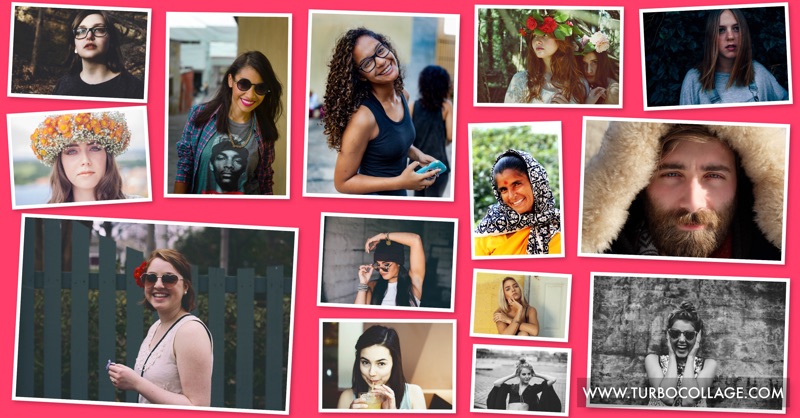 Do you like the above arrangement? What if we tell you that such an layout can be done with one click — yes, one click!

Once you have added your photos, simply click the tool as shown in the screenshot below.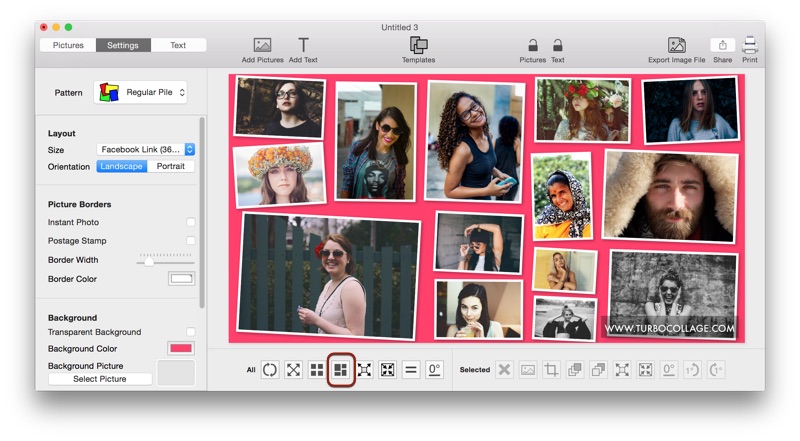 TurboCollage allows you infinite possiblities of a great photo pile layout. You can also make a pile of photo shapes using the Advanced Pile pattern.
Tweet This Photo Pile Making Method
Don't forget to email your comments and suggestions to apps@silkenmermaid.com